1. linkish
linkish.io offers a Functional yet beautiful way of organizing and viewing links. You can watch youtube/vimeo videos, listen to soundcloud audio, see images, read articles and visit website links and much more right from one dashboard.
It can be used as a :
1. Bookmark manager for individuals : Import browser bookmarks and easily organize them
2. Content curation tool for researchers : Go through your thousands of research links faster
3. Visual board for creatives : Images / videos / audios embedded in one place
4. Link manager for companies : Manage links collaboratively internally with your team
How is it better than other bookmarking apps?
1. Easy link imports and exports
You can either drop your bookmark export file in the dashboard or use our browser extension to automatically pull your browser bookmarks. You can also import local csv files of links. You can import links from the existing apps you use like Pocket and Raindrop too. It is a one time progress beyond which you will never need those other apps.
2. Organize with tags & folders
Pocket won't give the folder structure you desperately need to organize those 1000+ links. Once they are added you need to remember the tags it had to search it again. Linkish helps you personalize your links by adding custom tags while you organize them in infinite nested child folder structure. Movies > Comedy > 2020 > Irresistible
3. Many ways to view a link
Other apps embed only a handful of content from your links. You still would have to open 20+ tabs just to see what is in rest of the links. Linkish automatically embed video/audio content from 50+ websites without you lifting a finger and rest links open in a sidebar with built-in preview in a single tab.
4. Can organize the tags too
Other apps either flatten your nested folder or charge you for nested folders which is opposite of what a bookmark organizing app should do. Linkish at the time of bulk import of your bookmark exports in HTML / CSV format, keeps the folder structure intact as you had in browser bookmark area.
5. Built-In privacy (coming soon)
These days any digitally transferred data is not safe from being hacked and we understand some of your links, personal notes or documents are highly sensitive. Linkish allows you to password protect your individual folders by encrypting them locally in your browser. Your data would make sense only to you when you enter the password.
2. Diigo
Diigo is a versatile and powerful bookmark manager app that offers users a lot of tools to be connected to their services. One of the key feature of Diigo is its ability to add annotations to your Bookmarks. By using one of their web browser extensions, It allows users to highlight relevant content by using the 'Annotate' option from the Diigo bookmarklet. Diigo also allows users to save the webpage to read it later or take a screenshot of the webpage. The best thing about 'Read Later' feature is it saves the webpage to the archive, so no more losing webpages to broken links.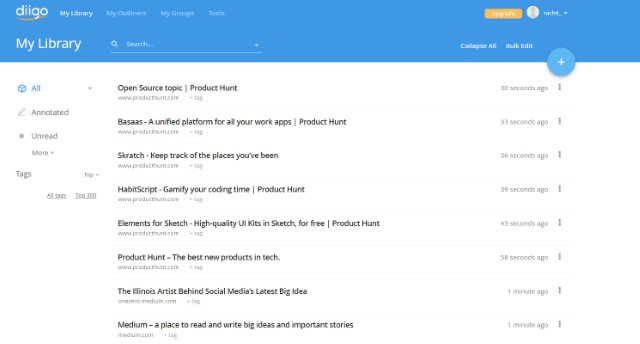 Diigo also allows you to add links to your profile by Emailing them to a user-specific Email address. Exporting and Importing of Bookmarks is fairly easy with Diigo. It also offers Web browser extensions for Google Chrome, Mozilla Firefox, and Internet Explorer.  On your web interface at Diigo, you can filter all your bookmarks on the basis of the tags assigned to them. It also acts as a social bookmarking network, that lets you discover new content shared by other people and join relevant groups and share links with each other.
Website: Diigo
3. Pocket
Pocket is one of the most popular premium bookmark managers you'll find today, allowing you to save videos and articles from any website or publication – or any app, as well. Pocket integrates with your web browser so you can save wherever you are, and also works across all your devices from smartphone to tablet to computer. You can even save via email or through over 1500 apps that have integrated with Pocket, such as Twitter and Flipboard. If you choose to use the free version of Pocket, you can expect to see sponsored content and have access to a limited suite of features. Pocket Premium users pay an annual fee of $44.99 (or a monthly fee of $4.99) and get an ad-free version of the service with a permanent library of everything you save – along with advanced search functions, smart Suggested Tags, and searches by Full-Text, Tag, Autor, and Topic.
Website: pocket
4. Raindrop.io
Raindrop.io bills itself as an all-in-one bookmark manager that allows you to save anything from the Internet into an easily organized collection. You can grab an article, photo, presentation, or video (and more) then file those items into thematic collections or categorize them with auto-suggested tags. Raindrop.io has a search feature to help you locate anything with ease and you can share your bookmarks with a team or even the public. Their browser extension lets you store bookmarks by clicking on a blue cloud icon in your browser's taskbar. You can access your bookmarks across all your devices and the main four browsers (Chrome, Firefox, Safari, Opera). The basic functionality of Raindrop.io is free, but you can subscribe to PRO and unlock all of its features, from nested collections and those auto-suggested tags to broken link and duplicate link finders. They also give 1 gb of image storage to their PRO users bookmark cloud backup.
Website: Raindrop
5. Toby
Does your work involve having a ton of browser tabs open at any one moment? Perhaps even a ton of tabs for each different client you have, meaning you have multiple browser windows open at once – with their own endless tabs you click through in confusion? That's where the utility of Toby comes in. You create collections – like Client A, Project B, or Research C – then drag your open tabs into the collection you'd like them to be collected into. When you need that selection of tabs, you just click on the collection and Toby opens them for you. By default, this browser extension stores these collections locally on your computer; however, if you also have a registered account with Toby, your collections will sync across any computer and you can share with a team.
Website: toby
6. Evernote
Evernote is a pretty great website and app that offers you a cohesive way to capture everyday ideas, to-do lists, manage your projects, take notes, and just about anything else you might need to do – in daily life or as part of your workday. You can even take handwritten notes and easily convert them into digital, tagged notes using their system. One of Evernote's many tools is a robust web clipper tool that they describe as "a save button for the web." Whether you're looking at an article, PDF, or want to save part of (or even an entire) web page, you can clip it to Evernote – and, since Evernote preserves the entire clipped content, you don't have to worry about dead links later. Evernote also empowers you to search your notes, create notebooks and tags, organize info by a specified metric (date, title, or tag), and search for text inside images. You can do all this at their Basic plan level as well – which means it's free.
Website: Evernote
7 : Flipboard
If you loved reading magazines in the pre-internet days, you'd appreciate Flipboard, an app that wants to be your own personalized magazine! Flipboard allows you to collects quality content you like and then presents it in a magazine format so that it is organized and looks visually appealing.
Just choose your preferences and your feed will be curated with articles and recommended stories. You can also follow others who share similar interests.
To make the process of storing content easily, Flipboard offers "The Flip.it button", a web bookmarklet that allows you to directly bookmark articles, videos, etc directly to your Flipboard magazine.
Website: Flipboard
8. Dewey Bookmarks
Dewey Bookmarks is a Google Chrome extension that helps you to better visualize and manage your bookmarks. The extension gathers all of your Google Chrome Bookmarks and features them in a strikingly beautiful card-based layout on the web. Your bookmarks could be easily accessed and edited. You can add new 'Tags' to it, to make it easier to access them at a later point of time.
Dewey Bookmarks allows users to sort their bookmarks by Title, URL or Date of their entry. The top level Search bar makes it easier for users to find their bookmarked webpages. Not only you can search for key terms in the title, an addition of 'URL:' before your search keyword makes it easier for you to search bookmarks based on keywords included in the webpage's URL. Dewey is a web-based Bookmark manager tool for your Google Chrome based bookmarks. You can also choose to import other Bookmarks to Chrome and then use Dewey Bookmarks to easily manage all of your Bookmarks at a single place.
Website:Dewey Bookmarks
9. Pinboard
If you don't need any bells or whistles, Pinboard – self-described as "Social Bookmarking for Introverts" – has everything you need with no frills. They've optimized their service to provide the utmost in privacy and speed while ensuring that you can bookmark from any browser and sync with other services like Twitter and Pocket. You can use Pinboard via browser plugin, import and export data in different formats, and receive customer support via email or Twitter. You control the privacy of every bookmark, can mark links as "read later," can sync your bookmarks with other services, and apply any number of tags to a given bookmark. You can also add unlimited notes to any bookmark, and they offer a ton of organizational tools – just set up your preferred organizational scheme from the beginning and stick to it. A Pinboard account will run you $11 per year.
Webiste: Pnboard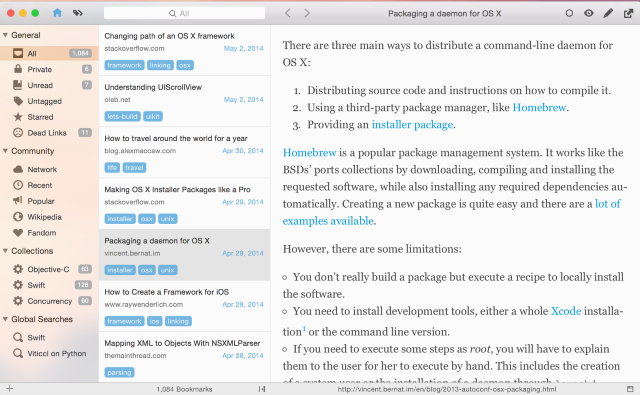 10. Historious
Historious saves you time by helping you find webpages you saw before. Users can bookmark sites with a single click, then find them again by searching for any word in the content of the page; Easy as you like!
Historious always keeps a cached version of the page you bookmarked to make it easy for you to remember. You can also share your bookmarked content with your friends and peers as historious creates a personalized search engine containing the sites you specify. Just give your friends the address and they can search your items!
Website: Historio